Celebrating 27 years of serving the Classic Car Community!
2nd Generation was established in 1995 and has since been committed to restoring Corvettes, muscle cars and other special interest vehicles to the highest level of quality. Our cars have graced the pages of numerous publications, also having received many awards at major car shows.

Our services include frame on to full rotisserie restorations, complete suspension rebuilding and chassis detailing, absolutely top level paint and body work with emphasis on panel straightness and proper panel alignment, engine compartment detailing, welding and fabrication, and media blasting all done to customer order. Our expert technicians will help you with all of your restorations needs, ensuring your restoration goals are achieved in a timely and cost effective manner that will exceed your expectations.

In home evaluations are available upon request.


PLEASE INQUIRE ABOUT OUR ROAD RACE INSPIRED CORVETTES
Enjoy browsing our website.Be sure to check out all our photo galleries, starting with the ones below this text. Indulge your self in our Road Race Inspired Corvettes page, and take a stroll through our REFLECTIONS page, to see close up what seperates our paint and body work from the rest of the competition! We take great pride in our workmanship and are happy to be able to share it with you. We update our site regularly, so check back often for updates on all our cars.
1965 CORVETTE 'FANG'. BLACK WITH SADDLE INTERIOR
1969 CAMARO. FRAME OFF RESTORED TO CUSTOMER SPECS.
1957 CORVETTE. FRAME OFF RESTORED IN CLASSIC BLACK WITH IVORY COVES!
1970 CHEVELLE, RESTO MOD. FRAME OFF RESTORED TO CUSTOMER SPECS
1969 CORVETTE BIG BLOCK COUPE. FRAME OFF RESTORED
1963 Corvette Split Window Coupe
1967 CAMARO RS. FRAME-OFF RESTORED
1970 CORVETTE CONVERTIBLE. FRAME OFF RESTORED TO CUSTOMER'S SPECS.
1965 CORVETTE. FRAME OFF RESTORED TO CUSTOMER SPECS, THIS BEAUTIFUL CORVETTE HAS THE RIGHT COLOR SCHEME, AND PERFORMANCE TO MATCH
1968 PONTIAC FIREBIRD. THIS ONE OWNER HIGHLY OPTIONED BEAUTY UNDERWENT A COMPLETE NUT AND BOLT RESTORATION.
1971 CORVETTE. THE PERFECT COMBINATION OF MUSCLE AND BEAUTY. AFTER RESTING FOR DECADES, THIS HOT RODDED VETTE IS READY TO HIT THE STREETS AGAIN!
1972 NOVA RESTO MOD! THIS ONE IS BAD TO THE BONE WITH MODERN STYLING AND A SUPERCHARGED BIG BLOCK!
1974 CORVETTE. THIS CLASSIC C3 CONVERTIBLE RECEIVED A FRAME OFF RESTORATION. THE PERFECT SUMMER CRUISER!
1965 CHEVELLE CONVERTIBLE. TRIPLE BLACK BEATUTY, RESTORED FOR A LONG TIME CUSTOMER
1964 CORVETTE. A FULL FRAME OFF RESTORATION ON A FAMILY HEIRLOOM!
A RARE 1972 LT1 CORVETTE. FRAME OFF RESTORED FOR A DISCERNING CLIENT.
1967 CORVETTE. THIS CAR IS STUNNING FROM EVERY ANGLE. OWNED FOR 40 YEARS BY THE SAME OWNER, WHO ENTRUSTED US WITH THIS VERY SPECIAL NUT AND BOLT RESTORATION.
1967 IMPALA SS 396. A BEAUTIFUL FRAME-OFF RESTORATION ON A "FULL-SIZE" MUSCLE CAR!
AN ICONIC 79 Z28. THIS CAMARO WAS THE OWNERS FIRST CAR, MANY YEARS AGO. NOW IT'S REBORN,AND READY FOR ACTION ONCE AGAIN!
1970 MUSTANG FASTBACK. "BAD TO THE BONE" COMES TO MIND WHEN DESCRIBING THIS LAZER STRAIGHT STANG! THIS IS WHAT MUSCLE CARS ARE ALL ABOUT.
1969 R/S Z28 CAMARO. THIS SPECIAL Z, HAS BEEN WINNING CAR SHOWS SINCE IT'S RESTORATION WAS COMPLETED. THE REAL WINNER, OF COURSE, IS THE OWNER, WHO GETS TO CRUISE AROUND IN THIS FANTASTIC CAR, AND COLLECT ALL THE TROPHIES!!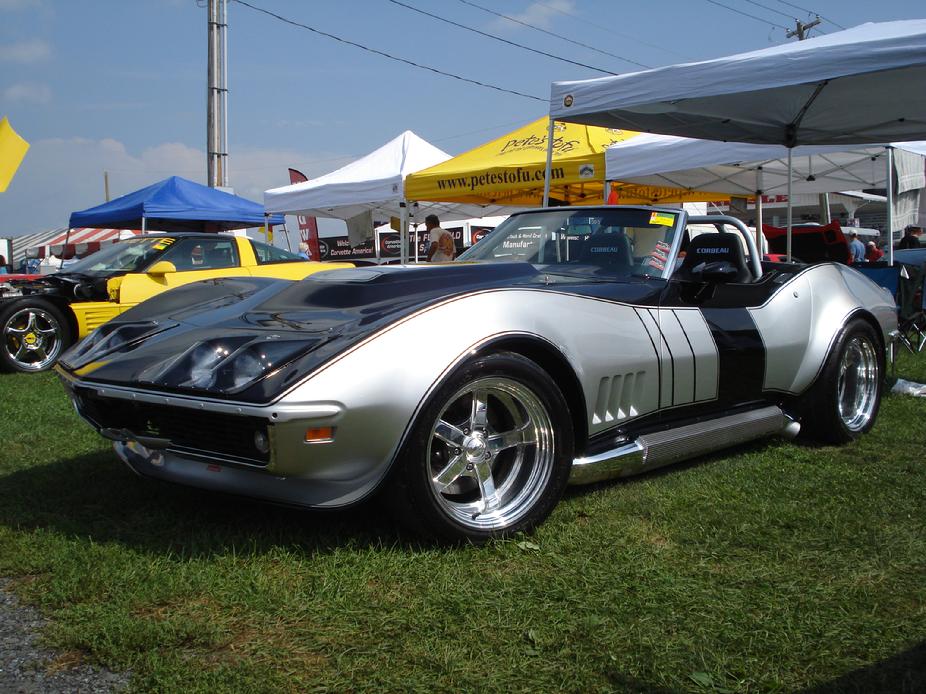 1969 CORVETTE. THE PERFECT COMPROMISE BETWEEN VINTAGE RACER AND MODERN SPORTS CAR !! FEATURED IN THE SEPTEMBER 2011 ISSUE OF AUTO ENTHUSIAST. ONE OF A KIND BODY WORK COMBINED WITH SOME PRECISION FINE TUNING IN THE HANDLING DEPT !! SHOWN HERE DURING IT'S FIRST AWARD WINNING OUTING DURING CORVETTES AT CARLISLE.
1971 "BRUISER" 850HP PROJECT VETTE. NEWLY BUILT ON LOCATION IN HOUSTON, TX. FOR 2010. BUILD WAS DOCUMENTED FOR A CURRENT AND UP-COMING SERIES OF ARTICLES IN CORVETTE ENTHUSIAST MAGAZINE. WE TRAVELED ACROSS THE COUNTRY TO HELP BUILD THIS BRUTAL ONE OF A KIND STREET CAR!!!
1968 ROAD RACE INSPIRED VETTE. OUR 2008 BUILD. THIS VERY SPECIAL CAR HAS WON AN AWARD AT EVERY SHOW ATTENDED THIS YEAR, INCLUDING CORVETTES AT CARLISLE AND MONTEREY HISTORIC VINTAGE FESTIVAL AT LIME ROCK, CT. IT IS FEATURED IN THE MARCH 2009 ISSUE OF CORVETTE MAGAZINE AS WELL AS THE JANUARY 2010 ISSUE OF CORVETTE ENTHUSIAST
FOR A BETTER LOOK AT THESE SPECIAL CORVETTES, JUMP TO OUR ROAD RACE INSPIRED VETTES PAGE!!!
OUR AWARD WINNING 1968 ROAD RACE INSPIRED CORVETTE. FEATURED IN HEMMINGS MUSCLE MACHINES AUG. 2007, CORVETTE TORQUE MAG (U.K.), VETTE VUES MAGAZINE DEC. 2007, WINNER OF BILL MILLER III CHOICE AWARD AT CORVETTES AT CARLISLE 2007.
1972 OLDSMOBILE 442 W30
1969 CORVETTE. 1ST IN CLASS AND WINNER OF OUSTANDING CUSTOM STREET AWARD AT WORLD OF WHEELS 2009.
1973 TRANS AM
1970 CHEVELLE SS 396
1967 MUSTANG CUSTOM COUPE
1971 CHEVELLE
1966 GT MUSTANG
Copyright 2007. 2nd Generation Automotive Restorations. All rights reserved.